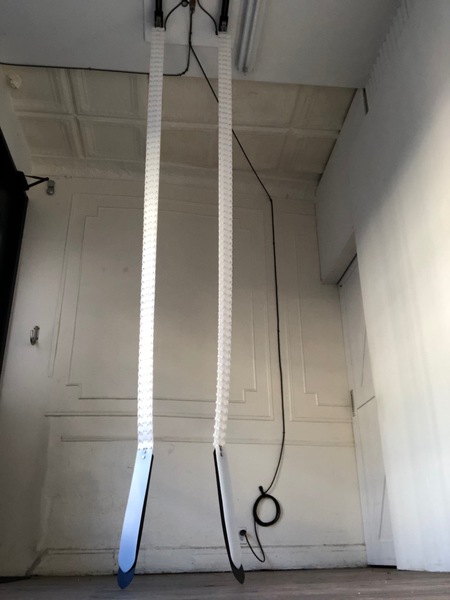 Arnaldo Morales: Coli-rubia No.20
@ GRIDSPACE
March 29, 2020 – May 10, 2020
Opening Reception: Sunday, March 29 from 5-6 pm on
Instagram TV
and
Facebook LIVE
GRIDSPACE is pleased to present an installation by Arnaldo Morales, consisting of a single piece entitled
Coli-rubia
No.20
, which perilously occupies the entire storefront gallery exhibition space and is visible 24/7.
Coli-rubia
takes its name from the movement of a yellow tail fish, implying a movement away from its current environment. The interactive and pneumatically operated sculpture first engages with an even paced rhythmic movement that is quickly abandoned for a more chaotic thrashing about, ultimately falling back into a monolithic stillness - once the triggers are released. Any kind of attempt at flight is futile. In Morales' own words:
This moment is different and more frustrating for me than other times, since we cannot have that human interaction that completes my work. Coli-rubia No.20 (which means "Yellowtail Snapper" in Spanish), is the memory of the movement of sea creatures I used to experience as a little kid in the Caribbean. It's almost ironic that my memory is now being tempered through the glass of Gridspace due to this time of the Coronavirus. Instead of being slapped in the face with it, up close as I might have planned, you too, have to experience by mediation. And even as the aesthetic of the virus turns into an icon, I am impressed by how deeply biological shapes are imprinted in our consciousness.
Arnaldo Morales is an internationally exhibited artist who creates psychologically-complex interactive mechanical sculpture. Through his work, the public explores human and animal responses and reflexes, including aggression, sexual pleasure, and play. Born in Ponce, Puerto Rico in 1967, he has lived and worked in New York since 1996.
www.arnaldomorales.com
Installation image:
Arnaldo Morales
Coli-rubia No.20, 2020
Industrial Materials
11' x 24" x 16' (when extended)
Note:
The exhibition will be on view for the next six weeks. It is visible from the sidewalk, through the gallery's window. Since the weather is becoming nicer and we are all getting a bit stir crazy simply send a message, via insta, to @GRIDSPACE_ , fb or email to
cg@gridspace.com
and we will gladly make an appointment to activate the sculpture for you. If this situation clears up by mid-May, we will have a proper closing at the gallery.
++++++++
++++++++
++++++++
++++++++
GRIDSPACE
​112 Rogers Avenue
Brooklyn, NY 11216
2,3,4,5 to Franklin